Here are the steps for
Here are the steps for installing an AGFA Snapscan 1212p under Windows XP (the dialogs are in German but the content is the same in English):
Prerequisits:
connect your scanner with the parallel port
turn on your scanner before starting your computer
disconnect all other devices from the parallel port (only the scanner is connected to the parallel port; cable < 2m)
Logon as Administrator
1. Download ScanWise 1.4.0.1 and installation:


Download:


ftp://EndUsra8:agfa2000@ftp.agfa.com/software/Public/DTP/ISP_1212P_V1401.EXE
http://www.hellasystems.de/ftp/Eingabeger%C3%A4te/Scanner/Agfa/SnapScan%201212p/Treiber%20 WinXP/ISP_1212P_V1401.EXE
The filesize of ISP_1212P_V1401.EXE has to be exactly 9.289.605 Bytes!! If not, please download it again.
Define the installation directory: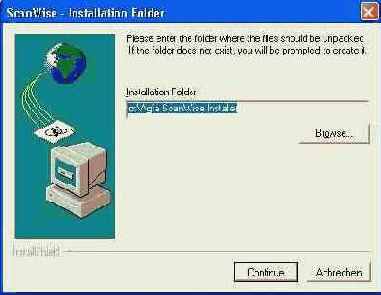 Select the language for installation: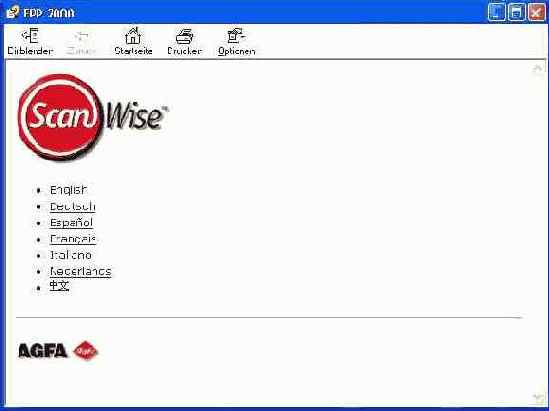 After that the main dialog for defining the next step appears: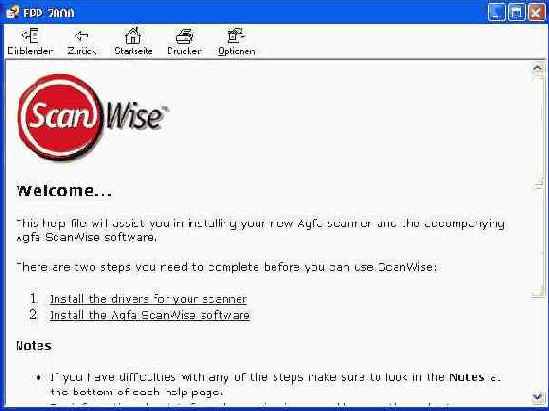 Only install the ScanWise software (Step 2). Under Windows XP the driver can not be installed with the installation program.
If the setup program can not be started, you have to go in the agfa installation directory and execute there "setup.exe".
Falls sich das Installationsprogramm nicht über diesen Link starten lässt, in das Agfa-Installations-Verzeichnis wechseln, das oben ausgewählt wurde. Dort die Datei "setup.exe" aufrufen.
2. Installation of Scanner Driver:


In the directory "C:\Agfa ScanWise Installer", which has been created in chapter 1 (or other location), are the necessary canner drivers located.
Start the control panel and there "Scanners and Cameras". With the assistant add a new scanner. Selecting the driver you have to change in the directory "C:\Agfa ScanWise Installer" and select the file "EPP2000.inf".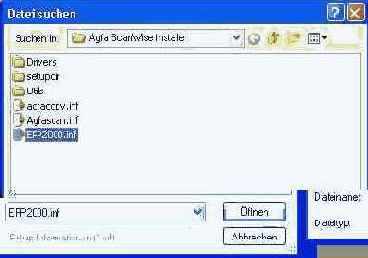 Then select the Scanner "SNAPSCAN 1212P":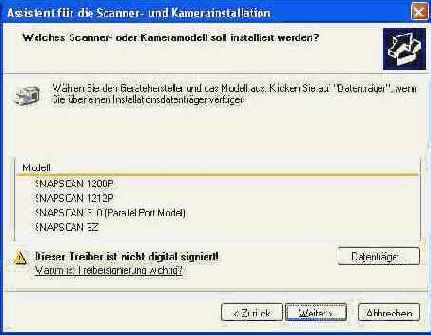 Proceed with the installation and ignore the warning.
3. Device correction:
During the installation the scanner has been plugged to the wrong device (LPT1):
Ñîäåðæàíèå
Íàçàä
Âïåðåä
---
---
---
---